Credit: The Guardian
Eva Sonaike's journey to becoming a textile designer began when she realised she could no longer stand the bland character of the small flat she and her husband used to share. "I was on maternity leave and I felt the need to make it warm, welcoming and more 'us'," she says. Eva headed to London's Petticoat Lane market and bought bolts of bright African wax fabrics to make into cushion covers, throws and curtains.
"As a quick fix, it worked," she says. "Of course, I now know that those materials aren't right for upholstery – too flimsy, not colourfast and so on. But it made me see very clearly how vibrant fabrics can bring joy into a space."
Ten years later, Eva has moved on – both career-wise and to a new home. She's designing full time, working from a studio in the garden of her 1930s house in north London, where she lives with her husband Kola Sonaike, a barrister, their son Lolu, aged 10, and daughter Lola, eight.
"When we bought this house it was a typical semi and the downstairs rooms were fairly dark," says Eva. The couple knocked through the ground floor rooms and extended it to create one large split-level space. "My wish list was simple: white walls, dark floors and lots of light," says Eva. "I knew I was going to add colour and pattern. And I think that works best with a light, clean backdrop."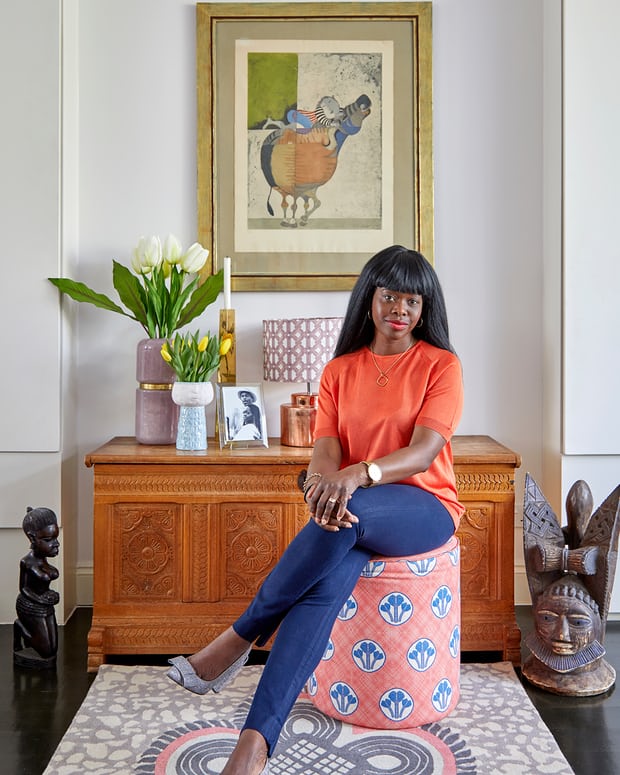 Inspiration for her fabric designs comes from the regular trips she has made to west Africa since she was a child. While Eva was born in Germany and lived there until moving to London in her 20s to work as a fashion editor, her heritage is Nigerian. "I grew up knowing that fabrics were held in high esteem in Yoruba culture," she says. "Thickly woven aso oke cloth was once a form of currency and is still given as a special gift. Or the embroidery on clothing could hold meaning – it might ward off evil, bring wealth or attract a spouse. Fabrics were never just pieces of cloth . They always told some kind of story."
Eva still travels to Africa each year with her own family, trips that now provide the stories for her own designs. "When I'm there, I'm like a sponge," she says. "I soak up visual stimuli, the scents and the atmosphere. I see patterns in everything, from architecture to nature."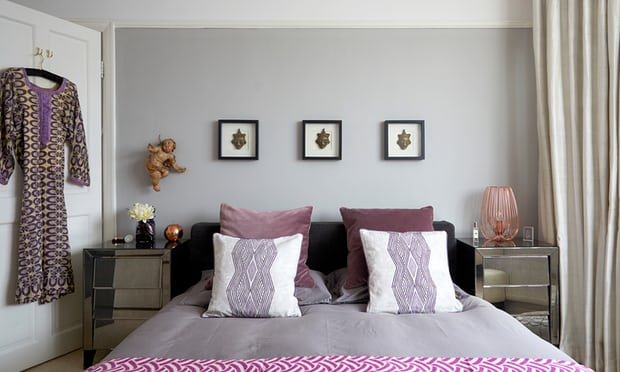 The motifs she sketches are later scanned into Photoshop, where she refines them and adds colours. Eva points to her Ijoba cushion, featuring lush leaves arranged in a stylised 50s-feel pattern. "This one came about after a trip to Ghana for a wedding. Afterwards we took the children up into the mountains to visit an old botanical gardens," she says. "Everyone said: 'Don't bother, it's so run-down' – but that just made me want to go even more. When we arrived, the place was shrouded in mist and it felt as if nature had been left to run wild. The gardens were teeming with life – plants unfurling and exploding into flower."
Another design, Ojo, was inspired by the tropical modernism-style walls and balconies of Lagos, reimagined by Eva into an elegant grid of golds and reds. "That post-colonial architecture is an everyday feature of Lagos life," she says. "I wanted to bring out its beauty." Other prints feature zebra stripes recast in neon shades, a softened version of batik and shapes inspired by Yoruba embroidery.
In her home, Eva's patterns are complemented by African artefacts that have been in her family since the 1960s and 1970s. "My father was an art historian, so he had a very good eye," she says. Eva and Kola have added carved figures bought more recently in Lagos's craft markets. "Look beyond rows of statues darkened with shoe polish and sanded to 'age' them and you'll always find beautifully crafted objects," she says.
Other pieces in Eva's home include German antiques, a table from north Africa (by way of a Fulham dealer) and high street buys from Habitat and Ikea. Eva also confesses to a bit of a HomeSense habit for vases and lamp bases. "My daughter used to do a gym class near a branch, which was fatal. Luckily, she's just switched to a ballet class further away."
African express: how bright textiles brought one London home to life